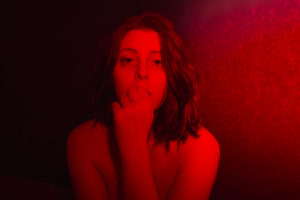 Liza Matton est née en 1996 à Lunéville. Passionnée par l'art depuis sa tendre enfance, elle suit 6 années de danse moderne et contemporaine. Ce qui va influencer une partie de son travail et son rapport avec le corps.
En 2014 elle commence des études de photographie aux Ecoles de Condé à Nancy.
Son thème de prédilection est l'autoportrait.
Inspirée par des artistes comme Nan Goldin et Cindy Sherman, son univers tourne autour de la mise en scène cinématographique et de l'abstraction. Son intérêt pour les films d'horreur alimente sa production photographique qui mêle tension, angoisse et mystère.

Liza Matton was born in 1996 in Lunéville. Passionate about art since her childhood, she follows 6 years of modern and contemporary dance. Which will influence part of his work and his relationship with the body.
In 2014 she began studying photography at the Condé Schools in Nancy – France.
His favorite theme is self-portrait.
Inspired by artists such as Nan Goldin and Cindy Sherman, her world revolves around cinematography and abstraction. His interest in horror films feeds his photographic production that mixes tension, anguish and mystery.
Workshops :
2017
Anne de Gelas, travail sur l'autoportrait et création d'un artist book – Condé Nancy
Benjamin Juhel, montage vidéo – Condé Nancy
Anne Immelé, accrochage et mise en espace – Condé Nancy
2016
Alix Terroir, photographie et retouche publicitaire – Condé Nancy
Aude Fuchs, reliure et création d'artist book – Condé Nancy
Stephane Spach, photographie d'architecture – Condé Nancy
Workshops :
2017
Anne de Gelas, work on the self-portrait and creation of an artist book – Condé Nancy
Benjamin Juhel, video editing – Condé Nancy
Anne Immelé, hanging and setting – Condé Nancy
2016
Alix Terroir, photography and editing – Condé Nancy
Aude Fuchs, binding and creation of artist book – Condé Nancy
Stephane Spach, architecture photography – Condé Nancy