Je(ux) est une série pluri-médias qui mêle photographie et vidéo en mettant en scène un personnage que l'on découvre sous plusieurs facettes. La diversité des supports utilisés comme instagram et la vidéo, nous permet d'en apprendre un peu plus sur le personnage. Ces différents moyens techniques fonctionnent ensemble et nous apportent des précisions supplémentaires sur l'histoire de ce personnage.
Les  mises en scènes cinématographiques nous rappellent les films comme It Follows, le projet Blair Witch ou encore l'univers coloré de The Neon Demon. Il s'agit d'un jeu entre les caméras avec une alternance entre caméra subjective et "objective", mais aussi bien du "je" de l'autoportrait.
A l'ère d'Instagram et des réseaux sociaux, il est question de simuler une fausse subjectivité afin de montrer la meilleure partie de nous. Il s'agit de s'inventer une vie, comme si nous vivions dans notre propre film. Cependant le réel reste indéniable et notre réalité nous rattrape toujours. Il suffit seulement d'un hacker pour pirater votre ordinateur et vous êtes mis à nu contre votre gré.
Je(ux) is a multi-media series that mixes photography and video by staging a character that we discover in many facets. The diversity of media used as instagram and video, allows us to learn a little more about the character. These differents technicals means work together and provide us with additional details on the character's story.
The cinematographic staging reminds us of films like It Follows, the Blair Witch project or the colorful universe of The Neon Demon. This is a game between the cameras with an alternation between subjective and "objective" camera, but also the "I" of the self-portrait.
In the age of Instagram and social networks, we simulating a false subjectivity in order to show the best part of us. It's about inventing a life, as if we live in our own movie. However, the real remains undeniable and our reality always catches up with us. It only takes a hacker to hack your computer and you are laid bare against your will.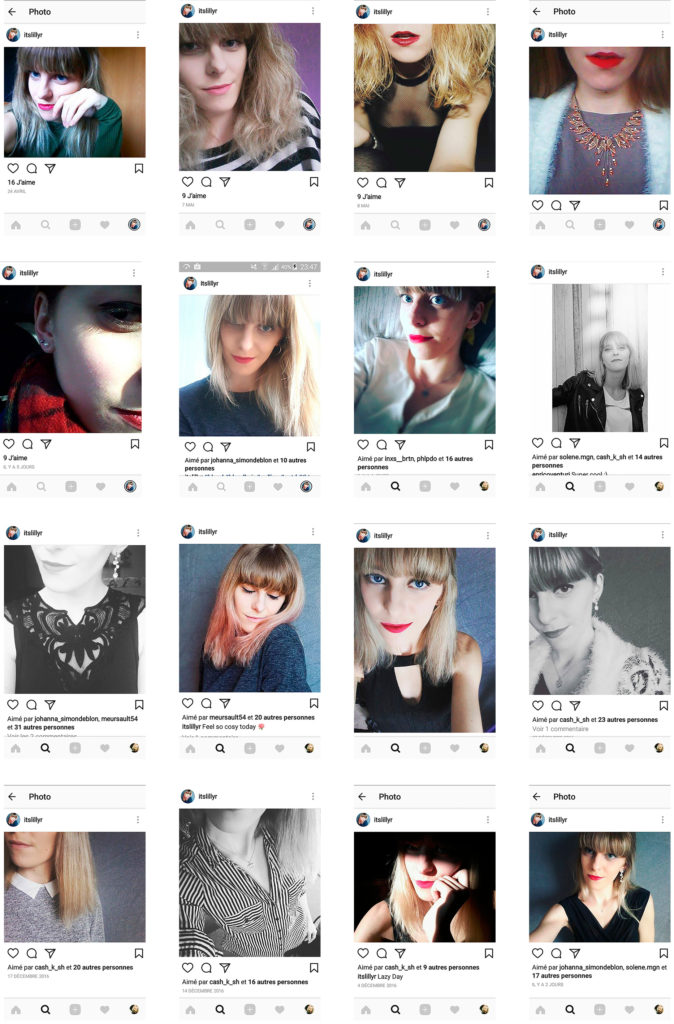 Visionner la mise en espace de ce projet : ici